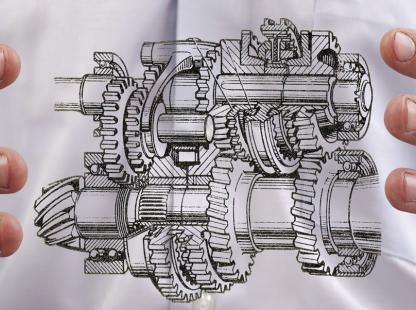 Lab Safety Instructions
This document is intended to ensure the safe operation of the Mechanical and Industrial Engineering Laboratories.
SAFETY INSTRUCTIONS FOR MECHANICAL AND INDUSTRIAL ENGINEERING LABORATORIES
OVERVIEW
This document is intended to ensure the safe operation of the Mechanical and Industrial Engineering Laboratories.  Students are expected to conduct experiments in a safe manner respecting the physical well-being of their fellow students and themselves.   Students should read and understand all contents of this document and are required to sign the Laboratory Usage Agreement   located at the end of this document.  NJIT's complete set of safety guidelines, The Safety and Environmental Management Program Manual, may be accessed thru the Highlander Pipeline homepage under NJIT RESOURCES.
---
GENERAL LABORATORY RULES:
BE PREPARED.   Read and fully comprehend the lab procedure as set forth in the lab manual before you begin any experiment.  If you do not understand the procedure, see your instructor/TA.
THINK SAFETY.   Work deliberately and carefully.  No horseplay
ALL LABORATORY STUDENTS MUST BE SUPERVISED   Never work alone
KNOW THE HAZARDS OF ANY MATERIALS OR MACHINERY YOU ARE WORKING WITH.  The laboratory manual and/or instructor will review specific safety issues on individual experiments before you perform any tests.
ALL STUDENTS MUST WEAR APPROPRIATE SAFETY EQUIPMENT.  Safety goggles must be worn anytime any laboratory experiment is being performed.  Additional safety equipment must be utilized based on specific experiment requirements.
ALL STUDENTS MUST WEAR APPROPRIATE LABORATORY ATTIRE.  No open toed shoes; no loose fitting clothing; Jewelry should be removed; long hair should be tied back
NO FOOD OR BEVERAGE IN THE LABORATORY.
KNOW EMERGENCY PROCEDURES.   Make note of fire escape routes and emergency phone locations.
REPORT ANY PERCEIVED SAFETY HAZARDS.  Immediately report any spills, equipment malfunctions, injuries or other perceived safety hazards to your Instructor / TA / or staff member.
KEEP YOUR WORK AREA CLEAN.
FAILURE TO CONFORM WITH ANY OF THE ABOVE RULES MAY RESULT IN NOT BEING ALLOWED TO PARTICIPATE IN THE LABORATORY EXPERMENT.
---
IN CASE OF EMERGENCY
CONTACT NJIT PUBLIC SAFETY IMMEDIATLEY @
(EXT 3111 CAMPUS PHONE)
(1-973-596-3111 PUBLIC PHONE)
( NO DIAL ENTRY NEEDED FOR CAMPUS EMERGENCY PHONES)
HAVE THE FOLLOWING INFORMATION READY WHEN SPEAKING TO THE PUBLIC SAFETY DISPATCHER:
NATURE OF EMERGENCY
LOCATION (BUILDING AND ROOM NUMBER)
NUMBER OF PEOPLE INVOLVED / INJURED
WAIT FOR FURTHER INSTRUCTIONS FROM DISPATCHER.  DO NOT HANG UP.
---
FIRE ALARM
ALL BUILDING OCCUPANTS MUST EXIT THE BUILDING WHEN THE FIRE ALARM IS ACTIVATED.  (DO NOT USE ELEVATORS)
---
LABORATORY USAGE AGREEMENT:
I have read and agree to observe all laboratory safety rules.  I understand these rules are to ensure my own safety, and that of my fellow students, instructors, and staff members.  I will cooperate to the fullest extent to maintain a safe laboratory environment.  I will follow all written and oral instructions provided by my instructor.  I am aware any violation of these rules may result in not being allowed to participate in the laboratory experiment, receiving a failing grade, and/or dismissal from the course.
First and Last Name: ___________________________________________

Student ID # : _________________________________________________                     
Signature and Date:_____________________________________________
Laboratory Safety Instructions  (pdf 288 KB)