MS in Manufacturing Systems Engineering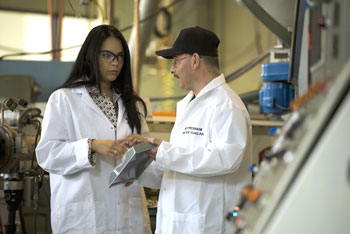 This is an interdisciplinary program of advanced study for individuals with backgrounds in engineering, focusing on efficient production in technology-intensive manufacturing industries.
The manufacturing engineering discipline addresses problems and methods of manufacturing systems integration. The MS in Manufacturing Systems Engineering program emphasizes the interrelationships between manufacturing equipment, processes and controls, and their integration into production factories.
The curriculum is computer and multimedia intensive and includes the use and understanding of new technologies such as robotics, programmable logic controllers, microprocessors and computer-integrated manufacturing and their application in automated production, assembly, automated inspection, and automated packaging. Focus is on computer-aided design and computer-aided manufacturing. Automation laboratories are used that contain many state-of-the-art devices including several industrial robots, CNC millers, CNC lathes, computer vision systems, and a fully automated flexible manufacturing system.
A minimum of 30 credits is required: 12 credits of core courses and 18 in an area of specialization. A master's project or thesis is optional. The Core Courses include: Manufacturing Systems, Flexible and Computer Integrated Manufacturing, Management of Manufacturing Systems, Design for Manufacturability.
The range of possible specializations is broad. The following is a list of possible specializations:
For Manufacturability
System Automation
Computer Control of Manufacturing Systems
Manufacturing Systems Analysis and Design
Management of Manufacturing Systems
The Undergraduate Industrial Engineering Program is accredited by the Engineering Accreditation Commission of the Accreditation Board for Engineering and Technology (EAC of ABET).
Administration Chairperson Athanassios K. Bladikas
Associate Chairperson George Abdou
Program Director Sanchoy Das
Faculty Professors Abdel-Malek, Caudill, Das, Ranky, Sebastian, Tricamo, Wolf
Associate Professors Abdou, Bengu, Bladikas, McDermott, Yang
How can I find out more?