Robotics Training Laboratory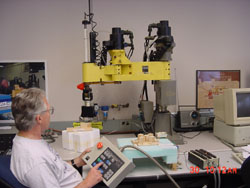 NJIT Robotics Training Laboratory is equipped with highly sophisticated ultra modern robots. We impart probably the best training on this discipline. All our alumni have been greatly benefited from our experimentations. Currents students enjoy working on new machineries and robots and utilize those instruments to comprehend modern technologies.
For further information contact Dr. Kevin McDermott.
Industrial Robotics laboratory
Course Usage
FED101, IME449, IME455, IME453, MnE601, MnE602
Robotic Hardware (12)
All Robots have related computer software and individual microcomputers
1.  Adept Cobra Scara Robot with Computer Vision
2.  Adept Cartesian Robot with Conveyor
3.  Lab Volt 5200 Jointed Arm Robot with Rotary Carousel
4.  Lab Volt 5200 Jointed Arm Robot with Transporter
5.  Armdroid 2001 jointed Arm robot
6.  Motion Mate Limited Sequence Robot
7.  Microbot Mini-Mover Robot
8. Microbot Mini-Mover Robot
9.  Microbot Mini-Mover Robot
10. Microbot Mini-Mover Robot
11. Sir-1 Jointed Arm Robot
12. Sir-1 Jointed Arm Robot
Flexible Manufacturing Systems (FMS) (3)
All FMS workcells have related computer software and individual microcomputers
1.  Walli FMS workcell with automated conveyor system, CNC miller, Serpent robot    
     and 8 I/Os
2.  Feedback 34-100 FMS workcell with PLC driven automated conveyor system with
     20 I/Os
3.  Feedback 34-120 FMS workcell with PLC driven automated conveyor system with
     40 I/Os
Programmable Logic Controllers (PLC) (13)
All PLCs have related computer software and individual microcomputers
1.  IDEC MICRO PLC with 10 Input/Output Ports (I/Os)
2.  IDEC MICRO PLC with 10 input/Output Ports (I/Os)
3.  Direct 05 Logic PLC with 14 I/Os
4.  IDEC MicroSmart PLC with 20 I/Os
5.  IDEC MicroSmart PLC with 20 I/Os
6.  Allen Bradley SLC 5/04 PLC with 16 I/Os PCB Boards
7. Allen Bradley SLC 5/04 PLC wtih 16 I/Os PCB Boards
8.  Allen Bradley SLC 5/04 PLC with 16 I/Os PCB Boards
9.  Allen Bradley SLC 5/04 PLC with 16 I/Os PCB Boards
10. Koto Direct Logic PLC with 30 I/Os and software
11. Festo SPC FC 640 PLC with 16 I/Os and system simulator
12 Mitsubishi. MELSEC F1-40MR PLC with 52 I/Os
13. Mitsubishi. MELSEC F1-40MR PLC with 52 I/Os
Computer Vision System
Siemans Visionscape Computer Vision System with PLC, lenses, conveyor system and software
Off Line Programming CAD System
Robotic Technologies Inc. Work Space3 CAD Modeling and Animation System with Off Line Programming capabilities
Peripherals/Components/Assembly Devices
1.  Fischertechnik Mini lab Kits
2.  Automated conveyor devices, autuators
3.  Connectors, motors, lights, alarms, switches
4.  Mechanical & Electronic components, wiring
5. Robotic component kits, tools
A printable PDF file of the  Industrial Robotics Laboratory, room GITC 2310 (596 KB pdf)