Pi Tau Sigma Honor Society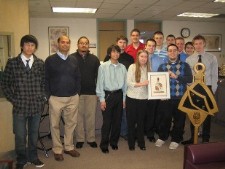 Pi Tau Sigma is a Mechanical Engineering Honor Society, instituted in order to establish a closer bond of fellowship among its members, which will result in mutual benefit to those men and women in the study and in the profession of mechanical engineering. Pi Tau Sigma's core values are: Integrity (soundness of character and moral conduct), Service (serving the mechanical engineering profession and the community), and Leadership (being foremost and fostering initiative through example in a professional manner).
"A Mechanical Engineering Honor Society striving to create better engineers through commitment to academic excellence and dedication to service."
Pi Tau Sigma was officially created on March 16, 1915 at the University of Illinois. In the next 26 years the organization grew to a total of 25 chapters around the nation, establishing its position as the national mechanical engineering honor society. There are currently more than 150 active chapters. The Tau Theta chapter was formed at NJIT May 25, 1951 and currently has about 20 members.
The Tau Theta Chapter of Pi Tau Sigma provides free tutoring services to engineering students at NJIT.  This activity was done in conjunction with the University Learning Center. Through this program those who need help in courses that the Learning Center has difficulty accommodating have a place they can turn too. The formal program is geared towards the initiates. In addition members of the Tau Theta chapter also conduct a biannual Book and Bake sale.  Most of the books were donated from professors in various departments.
Some of the activities that the Tau Theta Chapter has been doing for years:
1. Open House: Pi Tau Sigma members represented Department of Mechanical Engineering to recruit new students in the Open House event. We take students to the guide tour around the campus and the mechanical engineering department; speak of the interest, curriculum and programs, experiences, and projects as current ME students.
2. Bake Sale/ Crepe Sale: The Bake Sale is a fundraising event to raise money for other activities and events.
3. CAD Competition: The Computer Aided Design (CAD) competition gives an opportunity for Mechanical Engineering students to show their skills at modeling in CAD software. It is open to all ME students.
The Pi Tau Sigma Office is located in Room 333 G-A of the Mechanical Engineering Center (MEC). For more information about the Tau Theta Chapter of Pi Tau Sigma contact us at njit.pitausigma@gmail.com
Current Officers:
President: Samantha Vertucci
Vice-President: Ivan Calvachi
Secretary: Jullian Royal
Treasurer: Tyler Mevoglionil
Advisor: Dr. I. J. Rao (raoi@njit.edu)